Waterjet / Precision Plasma Cutting Services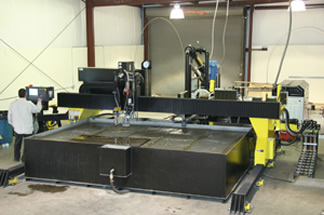 For thick plate cutting we use a combination Waterjet / Precision Plasma cutting system. The waterjet provides tighter tolerances and allows for more intricate shape cutting, while the plasma provides greater speeds for less critical cuts.

The precision plasma cutter allows for a straighter edge with less of a bevel than that produced on standard plasma cutters. The waterjet system produces clean edge cuts and, since no heat is involved in the process, heat-effected zones are not a factor.